Craig Hollabaugh, Ph.D.
16207 6740 Road, Montrose, CO 81401, (970) 316-3165 , craig@hollabaugh.com
As a technical liaison, Dr. Hollabaugh assists high-level management, marketing managers and engineering staff during their product conceptualization stages. With 25+ years experience, he provides product feasibility assessment and design guidance through technology evaluation, market research, customer requirements, internal development resources, and production capabilities using his comprehensive product design and software development expertise.
Craig has extensive experience in embedded Linux, system architecture development, network design, wireless communications, process control, data acquisition, digital/analog circuit design and software development at all levels.
Blah, blah, blah... You got an idea? I'll make it for you superfast! No one does it like Dr. Craig!
Montrose, CO, 2014
Materialize Your Ideas
Director
Building a next-generation design/fabrication center in western Colorado
Started website
Generated initial enthusiasm for the makerspace
Discussed reality television show possibilities
Worked with Hauck Engineering to procedure facility and core set of prototyping/production tools
Gave investor/customer design center tours
Montrose, CO, 2010-2014
Placing Power in your Hands
System Architect
Design and implement co-generation CPV solar power plant equipment with remote management capabilities
Collected system requirements
Developed highly accurate sun tracking motion control system for CPV modules
Applied for Patent 20140137924
Developed end-to-end messaging architecture, field system to mobile latency < 2 second
Teamed with no-sql enterprise developers for HA data center
Directed test engineers to create prototype and manufacturing testers
Built data center on AWS EC2, S3, and Glacier using Linux, ActiveMQ, python, mongodb, redis, and HTML5
Fielded first 4 power plants
Gave investor/customer design center tours
Atlanta, GA, 2008-2010
When next day isn't good enough
System Architect
Develop realtime infrastructure supporting 2500 nationwide drivers, terminal operations and billing
Collected current system issues from management, operations, drivers and developers
Developed NG proof-of-concept using G1 Android phone, Amazon Web Service and Flex in 4 days
Presented concept to board of directors, secured funding
Selected and lead 10 person development team through project definition and initial development
Attempted and failed using agile, scrum
Project postponed - April 2010
Developed a Flex Google Maps Local Search application to support sales, logistics and operations
Migrated search application to collaborative application using Google Wave
Hawthorn Woods, IL, 2005-2010
Ride the Slide! Special effects for your waterslide
Senior Engineer
Develop waterslide multimedia presentation control system
Designed control system, Acorn, using embedded Linux that controls video, audio, lighting and HMI
Created centralized website for waterpark operation monitoring
Split Acorn into 20 software components for completely distributed system
Developed near real-time event notification system with sub-second latency
Oversaw development of configuration management and software distribution efforts
Designed data acquistion and control hardware A2 module
National Security Technologies (formerly Bechtel Nevada)
Los Alamos, New Mexico, 2002-present
A management company specializing in nuclear stockpile stewardship
Senior Engineer
Oversee development of high speed data acquisition equipment
Directed research project investigating use of XMPP and XML for instrumentation
Redesigned streak camera using commercial off the shelf equipment and embedded Linux
Developed automated alignment system software for National Ignition Facility's VISAR
Albuquerque, New Mexico, 2006
Securing a peaceful and free world through technology
Software Developer
Created a web interface to existing parallel computing simulation code base
Created cross-browser interface to SIERRA using AJAX technologies
Taught SQL and state machine fundamentals to internal developers
Silverjack Design Group
Ouray, Colorado, 2001-2006
A design group specializing in online and onsite embedded Linux training, instruction and consulting
Founder/Instructor
Maintainer of embedded Linux interfacing website
Taught seminars at Bechtel Nevada, 4rf, Xyratex, US Navy Spawar and the 3 Day Experience
Created an open forum embedded Linux wiki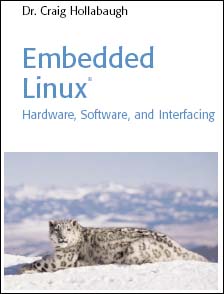 Boston, Massachusetts, 2001-2003
A publishing company specializing professional-level technical books and collegiate educational materials
Author
Wrote Embedded Linux: Hardware, Software and Interfacing ISBN: 0672322269, and website
Created a Linux compiling and debugging development environment for x86, PowerPC and StrongARM microprocessors
Created script to build a minimum root filesystem
Developed open-source device drivers for asynchronous serial, parallel port, USB, Memory I/O, I2C and SPI hardware interfaces
Measured average interrupt latencies for x86, PowerPC and StrongARM
Developed an event timer with 1mS accuracy
Created a system integration development environment using bash, an Apache HTTP server, mySQL, gnuplot and netcat
Oversaw translation activities into 5 foreign languages
Philadelphia, Pennsylvania, 1997-2001
A company specializing in the planning, design and construction management of public and private telecommunications networks.
Senior Design Engineer
Participated as a design group member
Wrote the 'ATM and Standards' and 'Network Failure Analysis/Criterion' section of MNR network design document
Reviewed $27 million network design and performed network reliability analysis for Metro North Railway, NYC
Participated as independent safety advisor for NYCT communications based train control design
Evaluated MARTA's primary train control communication network for Y2K compliance
Participated in replacement design of voice and data radio network for Port Authority of Allegheny County
Kiava Systems, Inc.
Westford, Massachusetts, 1999-2000
A company specializing creating and delivering advanced DSP software solutions for broadband communications
Founder
Acted as a board member and participated in all business discussions and activities including equity agreements.
Vice President Engineering
Investigated market opportunities for DSP based solutions applied to next-generation cellular phone base stations. Participated in contract negotiations and possible joint ventures.
Assisted in securing TigerSharc DSP library development contract with Analog Devices, Inc.
Performed quality assurance functions for library code development
Atlanta, Georgia, 1996-1998
A $1 billion Harris division, market leader in digital dictation products for the healthcare industry.
Principle System Architect
Responsible for strategic planning and initial multi-product architecture for Lanier's $100M digital dictation product line re-engineering effort. This included insuring that product development followed current/future technological trends, adhered to technical/medical information standards and incorporated legacy products.
Collected, organized and developed a project database consisting of 800 customer requirements
Applied portions of SEI Quality Functional Deployment to project requirement collection, organization, and analysis
Evaluated DCOM, CORBA, Java, ActiveX, Exchange, LDAP, CA, QoS and CE technologies during architecture development
Developed the system architecture for 12 distributed digital dictation products for medical applications
Developed the system architecture using object-based Unified Modeling Language, UML, using Rational Rose software
Presented and secured marketing support for system architecture
Presented and secured marketing and management support for 3-tier software development methodologies
Evaluated and recommended component object and network security technologies
Proposed and secured engineering and marketing support for a compound document technology
Researched direction of health information system technologies
Participated in product margin discussions with marketing and technology managers
Researched and applied operations research, workflow, fuzzy logic, queuing and decision theories to work routing algorithm
Proposed and secured engineering and marketing support for decision theory with feedback approach to work routing algorithm
Developed a workflow simulator using the message passing interface, MPI, for a BEOWULF supercomputing cluster
Amelia Island, Florida, 1995-1997
A start-up company specializing in design and manufacturing industrial spread spectrum telemetry equipment.
Founder
Located and secured venture capital funding, CEO, and marketing manager. Acted as a board member and participated in all business and joint venture discussions and activities.
Chief Engineer
Collected marketing recommendations and customer requirements. Designed, tested and certified (FCC, CSA, UL) all telemetry products. Developed manufacturing procedures and test fixtures. Trained and directed manufacturing staff. Worked with sales and marketing staff to correctly match products with customer requirements. Performed telephone and on-site customer support.
Researched OEM radio modules, barrier electronics and hazardous area design methodologies
Researched petroleum, public safety, healthcare, railroad, and industrial control for potential markets and competition
Brought to market 26 spread spectrum telemetry products including intrinsic safe versions for hazardous area operation
Participated in more than 50 successful field trials and customer product evaluations
Co-displayed, with other HART products, at 1996 ISA Conference Trade Show
Prepared manufacturing activities to move pilot projects to full production
Analyzed internal market survey results and re-adjusted marketing predictions
Researched, proposed and secured marketing support for global data management project
Spring, Texas, 1990-1995
A $10 million manufacturer of gasoline additive chemical injection equipment.
Senior Design Engineer
Collected marketing recommendations and customer requirements. Designed and tested hardware and software products. Developed manufacturing procedures and test fixtures. Supervised engineering staff.
Evaluated and eliminated existing OEM controller technology
Proposed and secured marketing support for a hardware design using a graphical user interface
Engineered a 200F temperature control chamber then evaluated liquid crystal and gas-plasma displays
Designed, developed and released the Programmable Additive Controller, PAC-3
Shipped 3,500 PAC-3 units with version 1.0 of embedded code
Incorporated features, ease of use and product quality that increased the PAC-3 market share from 40 to 70%
Displayed the PAC-3 in Titan booth at 1994 and 1995 ILTA Conference Trade Show
Exploited PAC-3 design for PAC-3 manufacturing and testing
Exploited PAC-3 design for the Multiple Additive Injector, MAI, product
Designed and deployed CommLink, a worldwide data collection system
Designed and deployed Titan Communication Controller, a remote process monitor
Received US Patent #5,222,027 for CommLink and Titan Communication Controller
University of Texas
Aerospace, Austin, Texas, 1993-1995
The Computational Fluid Dynamics Laboratory specializes in the research of predictive simulation of flow processes, new methods and algorithms, supercomputer applications, parallel processing, and basic mechanics of flow phenomena.
Post Doctoral Lab Staff
Advisor: Dr. Graham Carey
Responsible for preconditioned conjugate gradient, PCG, package interface development.
Co-developed a C++ wrapper for the PCG package
Developed a graphical user interface for the software library and input
Georgia Institute of Technology
Electrical Engineering, Atlanta, Georgia, 1988-1993
The Analog Design Group specializes in the design, modeling, simulation, and analysis of lower power CMOS circuits and fast GaAs circuits, mixed-mode simulation and behavioral modeling.
Doctoral Candidate - Research Assistant
Advisor: Dr. Phillip Allen GPA: 3.7
Investigated the simulation, modeling and performance issues for a virtual analog electronic laboratory workbench.
Dissertation: The Implementation of the Lab Bench Emulator
Evaluated circuit simulators for interactive modeling capabilities
Developed object-oriented (C++) circuit simulation server, CircuitServer
Developed 'in-simulation' dynamic parameter circuit models with client/server interfaces
Designed time-dependent temperature models for diodes, BJT, and CMOS transistors
Designed device models with destructive modes, evaluated analog test measurement equipment
Supervised graduate analog measurement laboratory, administered Analog Design Group domain computers and UNIX workstations
New Mexico State University
Electrical Engineering, Las Cruces, New Mexico, 1986-1988
The analog laboratory specializes in design, modeling, simulation and analysis of integrated circuits.
Masters Candidate - Teaching Assistant
Advisor: Raymond Black GPA: 4.0
Responsible for analog laboratory operation and instruction of junior and senior level transistor labs.
Evaluated analog test measurement equipment
Developed switched capacitor and analog anti-alias low-pass filters for Loral Data Corporation, San Diego
New Mexico State University
Electrical Engineering, Las Cruces, New Mexico, 1982-1986
Bachelors Candidate - Teaching Assistant
GPA: 3.8
President of Eta Kappa Nu, Chapter awarded National Certificate of Merit
Instructed networks lab.
Los Alamos High School
Los Alamos, New Mexico, 1981
'Embedded Linux: Hardware, Software and Interfacing'

ISBN: 0672322269, 2002

'XPCGib User's Manual, An X-Window Based Interface Builder for the PCG Library'

with A. Lorber, University of Texas 1995

'An Interactive PC Based Computational Server for Educational Applications'

Frontiers In Education 1992
Dr. Brian Kopp, Professor, University of North Florida, Jacksonville

904 206 3453, brian@kilocharlie5.com

James Olwine, Senior Program Manager, M*Model, Atlanta

404-260-0961, jim@olwine.net

Dr. Dan Drake, Technical Staff, Emory University, Atlanta

678 644 8198, dfdrake@mac.com

Dr. Alfred Lorber, Senior Research Engineer, Sandia, Albuquerque

505 845 9712, aalorbe@sandia.gov

Dr. Phillip Allen, Retired Professor, Georgia Institute of Technology, Atlanta

404 894 6251, phil.allen@ece.gatech.edu
Last Updated: December 2014